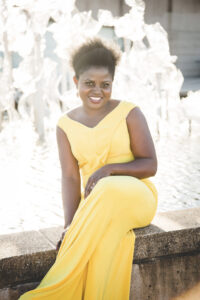 Natalie Bajinya, arbiter of unique, high-end fashions, designs one-of-a-kind garments and made-to-order couture pieces under the label Undeniable Bajinya.
Fascinated by textiles and fashion design from a very early age, Nathalie was taught to sew while living in an orphanage in Kenya. Today, Bajinya translates her sewing and design skills into exquisite one-of-a-kind garments and accessories.
Craftsmanship, attention to detail, artistry, and imagination are but a few of the words that describe the talent, skill, and spectrum of styles in Bajinya's repertoire of work. From colorful vibrant African print fabrics and textiles to soft delicate gowns, wedding apparel, and classic American looks, it is undeniable that Bajinya's got style.
---
It was such a joy to be featured on King 5 'Evening' March 9, 2021. Saint Bryan did an outstanding job understanding and sharing my story. My love of fabric has been a mainstay in my life, driving my passion to design and sew beautiful garments, each with its own story.